Commercial Duct Cleaning
Indoor Air Quality is a growing concern for many businesses, but finding a company that is able to properly clean Commercial Duct Systems is difficult. Low Indoor Air Quality can lead to illness in employees across the business and cause Sick Building Syndrom, which can be difficult to resolve completely due to the myriad of possible causes, not all of which are measureable1. Taking the step to have your ventilation system cleaned can help prevent microbial growth in ventilation systems, and in turn, helps maintain good Indoor Air Quality for your employees and customers2. In places like Winnipeg, where we spend up to 90% of our time indoors, and with large ranges in temperatures that can promote bacteria and mold growth, it is even that much more important to have your Duct System cleaned professionally.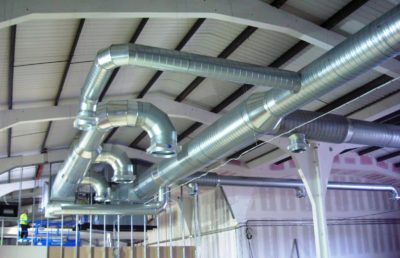 Here at Red River, we are experts at taking care of your entire Duct System. You can be assured that you are getting the highest quality and safety standards in the industry. This is backed up by our 33 years of experience cleaning duct and ventilation systems of all sizes, our highly trained staff, and specialized equipment. Since commercial ventilation systems are much larger and more complicated than a standard residential home, we focus on educating our clients about the various components as well as maintaining an eye to detail in order to make sure that every nook and cranny of your ventilation system is cleaned properly.
Duct Cleaning Method
We use the Controlled Extraction method when cleaning your duct system, which allows us to get the majority of the dirt and debris out of your system while minimizing the amount of dust created. Another common Duct Cleaning method is using compressed air to try to push the dirt and debris towards the vacuum. However, this tends to be a very inefficient method of cleaning, as it tends to have a limited range and pushes dirt further into the system.
The Controlled Extraction method uses specialized equipment to extract as much dirt and debris as possible from your ventilation system. First, we use Whipper Lines for the purpose of dislodging the majority of dust and debris, which bang around on the inside of your duct system. Immediately after, we send Skipper Balls into the main ducts. These pull the dirt and debris towards our large industrial vacuum, allowing us to control where it goes.
In order to remove dirt and debris from your home, each vent is individually sealed. As a result, dust doesn't escape your ventilation system and your business is left in its original condition. After the work is done, our technicians will vacuum out and wipe down each vent with a mild sanitizer.
Anti-microbial Fogging
This disinfecting product is optional and is applied to the duct system after the cleaning is complete. It works in your duct system over 7 days to specifically get rid of mold and bacteria in the system. Anti-microbial fogging is not part of our standard package, accordingly, it can be included in your quote if you are interested.
Free Estimates
Everyday dirt and debris is building up in the ventilation system, as a result, this provides a substrate for mold and bacteria growth.  As a result, this substrate, and anything growing within it, also circulates throughout your building every time the furnace or air conditioner turns on. Therefore, our specialists strongly recommend to get the duct system at your business cleaned every 1-3 years. All of our commercial cleaning estimates are FREE and are completed within 3 – 5 Business days of you calling. Consequently, you have nothing to lose! We also have Licensed HVAC technicians who can look at your commercial furnace or boiler system.
Do not trust your indoor air quality with just anyone; rely on Licensed, Bonded, and Insured Professionals. Call us today for your Free Commercial Duct Cleaning Estimate! You will be happy you did.
We can service all types of Commercial Properties including:
Schools
Office Spaces
Hospitals
Banks
Warehouses
Arenas
Restaurants
Minister of National Health and Welfare. "Indoor Air Quality in Office Buildings: A Technical Guide". 1994. http://publications.gc.ca/collections/Collection/H46-2-93-166Erev.pdf
Lavoie, Jacques; Lazure, Louis. "Guide for the Prevention of Microbial Growth in Ventilation Systems". 1994. Chemical Substances and Biological Agents Studies and Research Projects, Technical Guide RG-089. http://www.irsst.qc.ca/media/documents/PubIRSST/RG-089.pdf